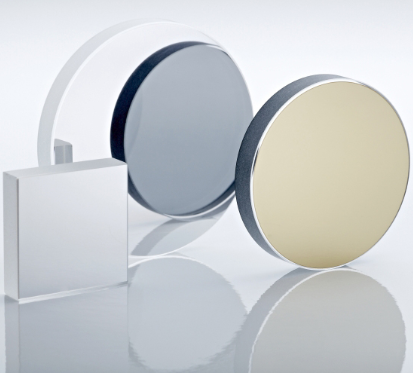 Detailed Product Description
| | | | |
| --- | --- | --- | --- |
| Product Name: | Co2 Scanning Mirror | Coating Material: | Aluminum |
| Thickness: | +/- 0.1mm Or Customized | Suface Quality: | 60/40 |
| Protective Film: | Blue Thin Film | Application: | Laser Printing, Laser Cutting |
| Material: | Si /BK7 /Fused Slica | Wavelength: | 10.6 μm/ 1064nm/ 532nm |
CO2 Optical 10.6 μm Laser Scanning Mirror Galvanometer Mirror for Galvo Scanner
1. Description of Gavanometer Scanning Mirror:
The scanning mirror is light weight rectangular mirrors that used for high speed two-axis laser scanning system. The dimensions for each mirror have been calculated accordingly with the laser beam size. The mirror has high reflectivity of 99.5% or above. The scanning mirror usually mounted on to a galvanometer for scanning purposes. For two axis scan mirror, commonly the Y mirror has a bigger size compared with the X mirror. This is due to the fact that the X mirror is used to scan the Y mirror rather than the object directly.
Surface figure: λ/4 @633nm per 1"Dia
Scratch/Dig: 60/40 or better,
Reflective coating:

Silicon, Gold or Silver coating for CO2 Laser (10.6um)
Si/BK7/FS, Dielectric or Silver coating for Nd:YAG Laser (1064nm/650nm/532nm)
Si/BK7/FS, Dielectric coating for Green & Visible Laser (650nm/355nm)
Mounted scanning mirror are available upon request.
Wavelength: 10.6um/1064nm/532nm/355nm
| | | | | |
| --- | --- | --- | --- | --- |
| Laser type | YAG | CO2 | 355nm | 532nm |
| Wavelength | 1064nm | 10600nm | 355nm | 532um |
| Reflective coating | Dielectric coating | Golden coating | Dielectric coating | Metal coating |
| Reflectivity | 99.5% | 98.7% | 99.5% | 98.6% |
| withstand continuouslaser power | 500 w/cm2 | 500 w/cm2 | 500 w/cm2 | 500 w/cm2 |
| Surface figure | λ/4 | λ/4 | λ/4 | λ/4 |
| Beam Diameter | 7/9/12/16/20/30mm | 7/10/12/16/20/30mm | 10/12mm | 10/12mm |
2. Advantage of Gavanometer Scanning Mirror:
Galvo mirror coatings can achieve reflectivity of greater than 99.9% and are able to withstand the most rigid durability requirements – including Temperature/Humidity and Salt Fog requirements
High Reflection
High Damage Threshold
High Durability
Excellent Environmental Stability
Mainly used in laser scanning galvanometer.
Our Galvanometer mirrors can suit any application
The technology of ion sputtering coating with imported coating equipment has the characteristics of high film hardness, uniform spectrum and strong central wave stability.
It can be customized according to customer requirements, size and square / circle.
3. Quality control:
Scanner Assembling
4. FAQ:
Q1: Are you a factory or trading company ?
A: We are factory located in Shenzhen, China.
Q2: Where is your factory located ?
A:F2,block C, Shen Chang Gang Industry Park,1st Rd. JingLong, Baolong Industry Zone, Longgang District Shenzhen.
Q3: Are there any stock or standard products?
A: We usually customize as per specific requirements, so please offer more detailed information about your requests, such as drawing(important), technical parameters, order quantity, use, material, photos, etc.
Q4: How about the samples policy?
A: We could send free samples for your reference, and the buyer please bear the delivery charge (through your express account for freight collect, or transfer the delivery charge to us for prepaid at your convenience). For some expensive samples, samples cost could be necessary.
Q5: If i place an order now, how long would it be before i got delivery ?
A: It would largely depend on the size of the order and the items you want.
5. After-sales:
when customer get the package,please first check the situation and the quality, if there is any quality problems made by us, we would like to change new ones or return back the money, also we will responsible for freight for custom. all things we put custom on the first consider way.
Please feel free to contact me if you have any questions, we will reply you as soon as possible.
We are looking forward to establishing relationships with you!!!