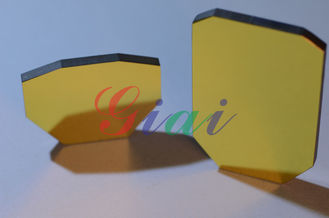 Detailed Product Description
| | | | |
| --- | --- | --- | --- |
| Material: | Si /BK7 /Fused Slica | Wavelength: | 10.6nm/1064/650/532nm/355nm |
| Surface Quality: | 40/20 | Appliacation: | Galvanometer Scanne |
CO2/YAG Optical Laser Scanning Mirror (Galvanometer Mirror) for Galvo Scanner
Gavanometer Scanning Mirror
The scanning mirror is light weight rectangular mirrors that used for high speed two-axis laser scanning system. The dimensions for each mirror have been calculated accordingly with the laser beam size. The mirror has high reflectivity of 99.5% or above. The scanning mirror usually mounted on to a galvanometer for scanning purposes. For two axis scan mirror, commonly the Y mirror has a bigger size compared with the X mirror. This is due to the fact that the X mirror is used to scan the Y mirror rather than the object directly.
Surface figure: λ/4 @633nm per 1"Dia 
Scratch/Dig: 40/20, 
Reflective coating: 
Silicon, Gold or Silver coating for CO2 Laser (10.6um) 
Si/BK7/FS, Dielectric or Silver coating for Nd:YAG Laser (1064nm/650nm/532nm) 
Si/BK7/FS, Dielectric coating for Green & Visible Laser (650nm/355nm) 
Mounted scanning mirror are available upon request. 
Wavelength: 10.6um/1064nm/532nm/355nm
Giai Photonics' Aim:
High quality, High technology, High credibility
People-oriented, technology innovation, customer demand-oriented
Giai Photonics'Concept:
Strengthen our industrial system, optimize our product portfolio,
Optimize our management processes, optimize our marketing concept.
Giai Photonics' Vision:
Forefront of the spirit and concept, the most humanization rules and regulations, the most advanced technology and performance.
Provide the products with best performance and competitive price for the global laser industrial.
More about us:

Established in 2008, We Giai photonics Co.,Ltd is a leading supplier of precision optical components, designing and manufacturing a wide array of optical filters, multi-element lenses, lens coatings. We do this with skilled technicians, expert engineers, and modern optical fabrication equipment, the latest metrology. Our objective is to offer the finest quality precision components, optics and systems available to meet the service requirements and exceed the expectations of our customers.
Manufacture Procedures:
Our Advertanges:
1. Fast Feedback: We are on line 24hours and give prompt reply in 12hours.
2. Short Delivery Time: We could process and delivery for you in shorttest time.
3. Reasonable Price: We reject unrealistically low price. As a prerequisite to ensure the highest quality of the products and provide the reasonable price.
4.Quality Ensurance: Experience team and efficent equipment are the important guarantee for the products.
5.Convenient Logistics Service: We cooperate with famous express logistics company cover 90% regions of the world and ensure products could be deliveried to customers safly and quickly.
6. Amount of Inventory: We have amount of standard optics inventory can supply for you, which save lots of money and time.
Shipping Methods:
Why Choose Us:

Q1. How many days will samples be finished? How about mass products?
A1. Generally, our items are produced base on customer's drawings. So the lead time of the sample order will be similar to mass production order.
Q3. How do you control the quality of your optical glass lenses?
A3. Optical glass lenses are processed in the vacuum dust-free workshop, the processing technology includes material preparation, milling and grinding, precision grinding, polishing, rinsing, edging, coating, inspection and agglutination.
To guarantee high-quality of lenses, each processing will be inspected during the processing transfer.
Q4. Are you a factory?
A4. Yes, we are a factory with 10 years experience, and there are about 300 employees in our factory.
Q5: What is the packing and shipping?
A5: Normally we will pack the items in vacuum electrostatic packaging, then pack them in an outer box.
Q6: What is your warranty?
A6: We provide 1 year warranty to all our customers.

Please do not hesistate to contact us if there is any inquiry or demand.
We will response you in 24 hours!