Detailed Product Description
| | | | |
| --- | --- | --- | --- |
| Product Name: | ZnSe Lense | Bevel: | <0.2×45° |
| Design Wavelength:: | 10.6μm | Parallelism: | <3′ |
| Clear Aperture: | >90% | Flatness: | λ/2@632.8nm |
10.6μm ZnSe Lense Infrared Lenses For Thermal Imaging System
ZnSe Lense
Description
ZnSe lense is widely used in CO2 laser cutting ,marking,drilling,other laser system of industrial, which has low absorption and withstand high laser power.The coating layer of ZnSe lense is solid.The trasmission of it can reach 67 % in 10.6 micron.
We do the optimization design according to diffration and aberration and then show the products that have actual focus spot size in the same focal length. We can produce the products upon your requirement.
We take the import ZnSe which is yellow transparent multi-crystal to be coating. Its trasmittance is 0.5-15μm. It is made in chemical vapor deposition method,which have little inclusions and low obsorption. Its has feature of low scatter loss. It is the best substrate that can make IR lenses to use in CO2 high power laser system because of low absorption in 10.6μm.
Usage:Laser cutting,laser marking,laser welding, infrared sensor,medical device and thermal imaging system.
We will offer you the good service in precision optics.
Specification
Substrate: ZnSe
Design wavelength: 10.6μm
Focal Length Tolerance: ±1%
Dimension +0.0/-0.1mm
Thickness Tolerance ±0.1mm
Flatness λ/2@632.8nm
Surface Quality 40-20
Parallelism <3′
Clear Aperture >90%
Bevel <0.2×45°
Coating 10.6um Enhance trasmittance
Standard products
Type Diameter mm Focal length(mm) Wavelength um Edge thickness mm Shape
GIAI-M-D12 12 25.4 10.6 2 Menius
GIAI-M-D18 18 38.1 10.6 2 Menius
GIAI-M-D19 19 41 10.6 2 Menius
GIAI-M-D20 20 50.8 10.6 2 Menius
GIAI-M-D30 25 3.5 10.6 2.5 Menius
GIAI-M-D25.4 25.4 25.4 10.6 3 Menius
GIAI-M-D30 30 30 101.6 3.5 Menius
GIAI-M-D38.1 38.1 38.1 127 5 Menius
GIAI-P-D12 12 25.4 10.6 2 Plano-convex
GIAI-P-D18 18 38.1 10.6 2 Plano-convex
GIAI-P-D19 19 41 10.6 2 Plano-convex
GIAI-P-D20 20 50.8 10.6 2 Plano-convex
GIAI-P-D30 25 3.5 10.6 2.5 Plano-convex
GIAI-P-D25.4 25.4 25.4 10.6 3 Plano-convex
GIAI-P-D30 30 30 101.6 3.5 Plano-convex
GIAI-P-D38.1    38.1                 38.1                           127                       5                                Plano-convex
About Us:
Giai photonics Co.,Ltd is a leading supplier of optics and precision optical components ,specialized in a wide array of optical filters, multi-element lenses, lens coatings. Our main products includes optical filters, focusing lens, window, mirror, polorazer, refector, scan mirror, beam expanders, etc.Our objective is to offer the finest quality precision components, optics and systems available to meet the service requirements and to exceed the expectations of our customers.
Certifications: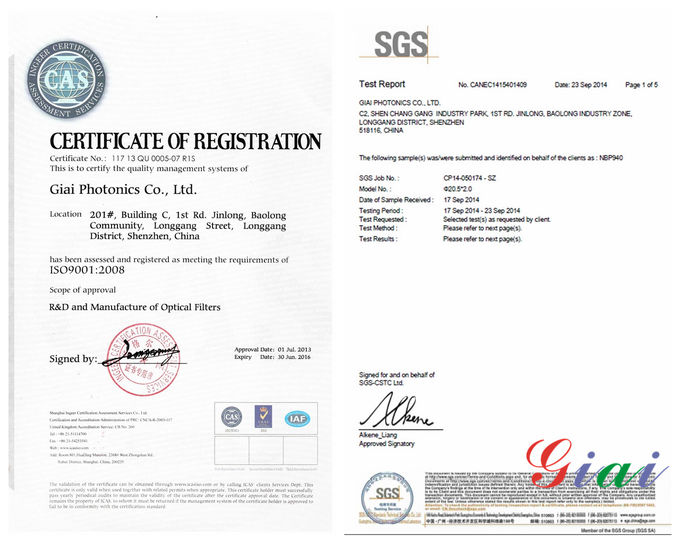 Shipping:
All the products will be package with firm box,customer can chose UPS,DHL,Fedex,SF,TNT,EMS,etc.we suggest:
UPS: America shipping is faster, 2-3 days
DHL: Europe,America,Asian,Oceania,Africa is 3-5 days.
Fedex: Europe,America,Asian,Oceania,Africa is 3-5 days
TNT:5-7days
SF: only can be used for Asian countries,3-5 days
Terms of payment:
30% deposit by T/T,the balanced paid before shipment
Prepay 100% of the total before shipment
FAQ:
Q1: Are you a factory or trading company ?
A: We are a factory in Shenzhen, China.
Q2: Where is your factory located ?
A:F2,block C, Shen Chang Gang Industry Park,1st Rd. JingLong, Baolong Industry Zone, Longgang District Shenzhen.
Q3: Are there any stock or standard products?
A: We usually customize as per specific requirements, so please offer more detailed information about your requests, such as drawing(important), technical parameters, order quantity, use, material, photos, etc.
Q4: How about the samples policy?
A: We could send free samples for your reference, and the buyer please bear the delivery charge (through your express account for freight collect, or transfer the delivery charge to us for prepaid at your convenience). For some expensive samples, samples cost could be necessary.
Q5: If i place an order now, how long would it be before i got delivery ?
A: It would largely depend on the size of the order and the items you want.
please do not hesitate to contact me if you got any questions we will reply you as soon as possible.
We are looking forward to establishing relationships with you.