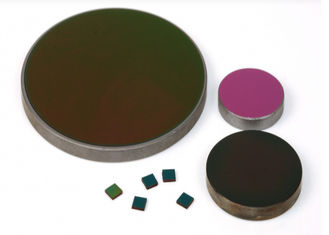 Detailed Product Description
Diameter (mm):
10-150mm
Clear Aperture (%):
90%
Surface Quality:
60-40
Substrate:
Germanium
Density (g/cm3):
5.33
Coating:
Uncoated Or Coated
AR Coating Range:
8-12 μm
Germanium Window Ge Window Ge Lens with AR Coating
 
 
Description:
 
Germanium(Ge) lens for thermal imaging
Germanium lenses are perfect for Mid-Infrared applications. These lenses stand up well to harsh environments and we offer the most popular sizes with Anti-Reflection Coatings. Germanium is subject to thermal runaway, meaning that the transmission decreases as temperature increases. As such, these lenses should be used at temperatures below 100°C. Germanium's high density (5.33 g/cm3) should be considered when designing for weight-sensitive systems. The Knoop Hardness of Germanium is 780, making it ideal for IR applications requiring rugged optics.
 
AR/AR@7-14um; 
DLC (diamond or hard carbon coating)/AR@7-14um; BBAR/BBAR@3-12um; 
Customized coating;
Why Choose Us:

1. Fast Feedback: We are on line 24hours and give prompt reply in 12hours.
2. Short Delivery Time: We could process and delivery for you in shorttest time.
3. Reasonable Price: We reject unrealistically low price. As a prerequisite to ensure the highest quality of the products and provide the reasonable price.
4.Quality Ensurance: Experience team and efficent equipment are the important guarantee for the products.
5.Convenient Logistics Service: We cooperate with famous express logistics company cover 90% regions of the world and ensure products could be deliveried to customers safly and quickly.
6. Amount of Inventory: We have amount of standard optics inventory can supply for you, which save lots of money and time.


Q&A:

Q:Can you accept customization?
A: Yes we can.
Q: How long is your delivery toime?
A: Generally inventory sample is 2-3days, and 15-30days for customization, it is according to quantity.
Q: What is your mini order?
A: For inventory mini order is 2-5pieces, and customization is 10pieces.
Q:How do you test the product before delivery?
A: We have the strict QC procedure, every product will be tested by professional instrument.


Please do not hesistate to contact us if there is any inquiry or demand.
We will support you in 24 hours!