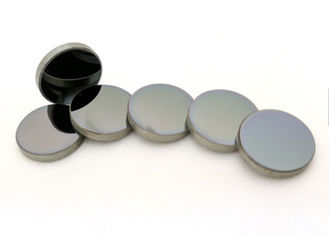 Detailed Product Description
| | | | |
| --- | --- | --- | --- |
| Size: | 10-150mm | Clear Aperture (%): | 90% |
| Surface Quality: | 60-40 | Substrate: | Germanium |
| Density (g/cm3): | 5.33 | Coating: | Uncoated Or Coated |
| AR Coating Range: | 8-12 μm | Tolerance: | +0/-0.1mm |
Customized Size Germanium Lens Germanium Window


Description:
Germanium (Ge) is a relatively hard, high-density, IR transmitting material that blocks UV and VIS wavelengths but allows IR from 2µm. Germanium has the highest refractive index of commonly available IR-transmitters and has low optical dispersion. This makes it desirable in aspects of lens design where its refractive index allows otherwise impossible specifications to be built. AR coating is recommended.
Germanium transmits over 45% between 2-14μm up to 45⁰C but transmission degrades slowly at 100⁰C then more rapidly above 200⁰C. Exposure to higher temperatures can lead to catastrophic failure in the material so Germanium is unsuitable for use in these conditions. Additionally, its relatively high density should be considered where weight is an issue. Germanium has a hardness of HK780, slightly higher than GaAs with which it shares similar mechanical properties.
Typical applications for Germanium include thermal imaging where the material can be used as a front optic while its index of refraction makes Germanium useful for wide-angle lenses and microscopes. Additionally, Germanium components can be used for FLIR (Forward Looking Infrared) and FTIR (Fourier Transformed Infrared) spectroscopy systems, alongside other analytical instruments.


Specifications:
| | |
| --- | --- |
| Material | Germanium |
| Wavelength Range | 2.0 – 16.0 μm |
| AR Coating Range | 8-12 μm |
| Reflectance over Coating Range (Avg.) | <1.5% |
| Diameter Tolerance | +0/-0.1mm |
| Thickness Tolerance | ±0.2 mm |
| Focal Length Tolerance | ±1% |
| Surface Quality (Scratch-Dig) | 60-40 |
| Surface Flatness (Plano Side) | λ/2 |
| Spherical Surface Power (Convex Side)* | 3λ/2 |
| Surface Irregularity | λ/2 |
| Centration | ≤3 arcmin |
| Clear Aperture | 90% of Diameter |


More about us:

Established in 2008, We Giai photonics Co.,Ltd is a leading supplier of precision optical components, designing and manufacturing a wide array of optical filters, multi-element lenses, lens coatings. We do this with skilled technicians, expert engineers, and modern optical fabrication equipment, the latest metrology. Our objective is to offer the finest quality precision components, optics and systems available to meet the service requirements and exceed the expectations of our customers
Manufacture Procedures:
Our Advertanges:
1. Fast Feedback: We are on line 24hours and give prompt reply in 12hours.
2. Short Delivery Time: We could process and delivery for you in shorttest time.
3. Reasonable Price: We reject unrealistically low price. As a prerequisite to ensure the highest quality of the products and provide the reasonable price.
4.Quality Ensurance: Experience team and efficent equipment are the important guarantee for the products.
5.Convenient Logistics Service: We cooperate with famous express logistics company cover 90% regions of the world and ensure products could be deliveried to customers safly and quickly.
6. Amount of Inventory: We have amount of standard optics inventory can supply for you, which save lots of money and time.
Shipping Methods:
More about us:
Why us?
1 Service time: 24 hours waiting for you.
2.Fast Response: 2 hours within our worktime, 12 hours get off work.
3.Good Service: We can supply you from design,measure to coating one stop service.
4. MOQ: No MOQ requirement, you can set your order freely.
5. After-sales service: If bad quality, we will refund .
How to Order ?
Step 1. Send the inquiry at the bottom of the product.
Step 2. We will response or quote you within 24 hours.
Step 3. Place order through email, fax directly.